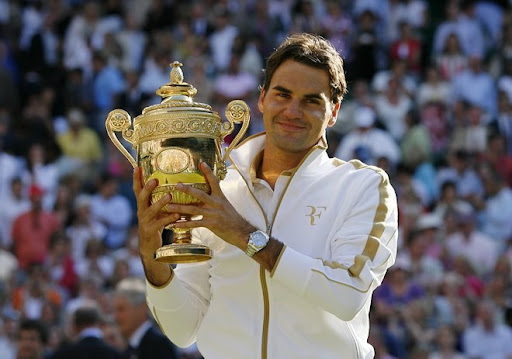 In a span of one week, Roger Federer had his streak of 23 straight Grand Slam semifinal appearances snapped, was replaced atop the ATP rankings and saw the bulk of the pre-Wimbledon hype shift toward Rafael Nadal. Despite all that, Federer is still the odds-on favorite to hoist the Gentleman's singles trophy next month at the grass court tournament.
At the moment, oddsmakers are listing Federer as an 11/8 favorite to win, compared to 5/2 odds for Nadal. It makes sense; Federer is 48-1 in the last seven years at Wimbledon with that lone loss coming, of course, to Nadal in their legendary 2008 final. The Swiss star has won the title six times in his career.
It's not that Nadal is a grass court slouch though. Since the Spaniard burst onto the tennis scene and improved his clay court game enough to compete on grass, he's 19-2 at Wimbledon with
his
only losses coming in the finals to Federer. He'll likely be the top seed at the championships thanks to his No. 1 ranking.
Last year's finalist, Andy Roddick, is getting 8/1 odds, same as hometown hero Andy Murray.
The seeding for the 2010 championships will be announced on Wednesday, with the draw set to be released two days later.
Date: 10.06.2010, Source: Yahoo Sports