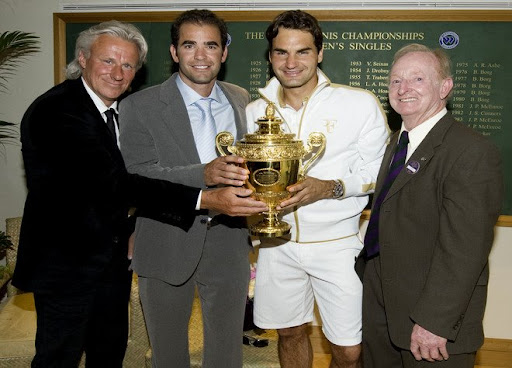 "I think Roger is going to put together a number that's going to take a long time to beat, it's going to be a big, big number," the American said in an exclusive interview with
The Sunday Telegraph
.
"I dominated Wimbledon for a long period of time and now Roger is dominating Wimbledon. I think he can win eight Wimbledon titles, and nine's definitely possible too; that would put him in 'Martina Land', level with Martina Navratilova on her nine women's titles. Roger could win 10 Wimbledon titles. I think that's possible, though it could be a stretch."
If Federer can win this Wimbledon, and then retain his title for a further three years, he would only be 31 when he reaches double digits. Ten isn't impossible. "Every time he plays at Wimbledon, he's going to contend for that trophy," said Sampras.
It was just 10 years ago, at the 2000 Championships, that Sampras won his seventh Wimbledon. Yet, if anyone imagines that Sampras wants Federer to lose, and for Rafael Nadal or Andy Murray or Andy Roddick or anyone else to win the title, they would have it all wrong.
"Would I want my Wimbledon record to stand forever? Did I think it would be safe for a while? Absolutely. But if someone is possibly going to equal and then break my record, I'm pleased that it's Roger. I don't mind him doing it," Sampras said.
"People think that I must be against him, that I really don't want him to win any more Wimbledon titles, but that's not the way it is. I don't root against people."
Sampras had imagined that his Wimbledon record was as safe as the Swiss bank vault where Federer probably keeps all his gold. "I never thought that someone would come along so quickly and threaten my record," he said.
Though Federer has not won a title at any level since he won his 16th grand slam at January's Australian Open, put him back in his Wimbledon whites and on to the greensward, and he should be back at his best again.
Five of Federer's six Wimbledon trophies came in a golden stretch between 2003 and 2007, and in 2008 he lost an exceptional final to Nadal. The Majorcan, who missed last year's Championships through injury, is back at the All England Club, and whatever happens over the next fortnight he will remain as the world No 1.
When Federer won Wimbledon last summer, by beating Roddick in a final that took so long that there was growing concern that Federer's heavily pregnant wife would go into labour on Centre Court, Sampras was watching from the Royal Box.
Sampras turned up a bit late, said hello to Federer by giving him a thumbs up as he found his seat. Federer took the fifth set 16-14 to become the first man to win 15 slams, taking him one past Sampras' 14. On a day that Sampras described as "great for tennis", he called Federer "a legend, an icon and a stud".
"When he beat me here in 2001, that was probably when he showed that he can play on grass. Grass is a hard surface as everything can turn on a dime. But he's got the perfect temperament for grass. He's so calm and controlled, there aren't any great emotional highs and lows for him, and that's the best way to approach it.
"Last year, Roddick was serving so well, but Roger stayed as cool as a cucumber, and that was so important," Sampras said.
"There's an aura about Roger on a grass court and he's got the whole package. He doesn't have any weaknesses and there's nothing out there to scare him, and he loves being out there on Centre Court.
"When he stays back, he's awesome and if he feels as though he needs to come in to the net, he will come in," Sampras observed. "I'm so impressed by his consistency."
When Federer celebrated last summer's victory by putting on a tracksuit which was embroidered with a golden '15', it wasn't to everyone's taste. Sampras, though, said that his friend, who starts official proceedings against Colombia's Alejandro Falla on Monday afternoon on Centre Court, isn't playing tennis "for the ego trip".
"Knowing Roger, he's not the sort of person who will walk down the street hoping that people will be pointing and saying, 'that's the greatest tennis player of all time'. Yes, he likes winning Wimbledon titles, but this isn't about his ego.
"He lets his racket do the talking. He loves his tennis. He's a humble, under-stated man," said Sampras.
Their 'bro-mance' began in the spring of 2007 when Federer took up Sampras' invitation to pop around to his house in Los Angeles and play some tennis on the court in his back garden. In the autumn of that year, the pair went on a lucrative mini-tour of exhibition matches across Asia.
"We got to know each other pretty well in Asia – there was a connection. We developed a great friendship. We keep in touch, and we talk about tennis we talk and about life. Our personalities are quite similar; we're both quite dry, quite reserved," said Sampras.
"Roger is also a bit of a prankster. That's a side of Roger that people don't really see. He's a classy guy, a great champion."
The King of SW19:
2003: v Mark Philipoussis
Federer, 21, produces a near-faultless display to claim his first grand-slam title.
2004: v Andy Roddick
For the second year in succession, Federer is brought to tears after winning Wimbledon, digging deep to come from behind.
2005: v Andy Roddick
Federer completes a hat-trick of titles, labelling his performance "flawless" and the best in his life.
2006: v Rafael Nadal
Federer takes his winning streak on grass to 48 matches: 6-0, 7-6 (7/5), 6-7 (2/7), 6-3 for a fourth Wimbledon crown.
2007: v Rafael Nadal
One of the greatest Wimbledon finals. Federer saved four break points in the fifth set before equalling Bjorn Borg's record of five straight titles at SW19.
2009: v Andy Roddick
Another epic: Federer broke serve just the once, in the 77th game of a 77-game Wimbledon men's final – the longest in its history. Federer served 50 aces.
Date: 20.06.2010, Source: Telegraph